Here are 18 more reasons why we love Bengaluru even more
An ode to the Garden City
Many of you have read our light-hearted take on what makes you a Bangalorean. If you haven't, do read. We have been bowled over by how much you love the city. Many of you said that we missed quite a few events that are close to your hearts. So here are 18 key events that have become a part of the city's identity.
1. Flower show in Lalbagh
Best known as the country's Garden City, Bangalore hosts one of India's best flower shows. Year after year, the semi-annual show elicits the same excitement and fervour among the crowds that gather to soak in the brightly-coloured ambience at the Lalbagh gardens. The replicas of monuments, wildlife, etc., made entirely out of flowers are also a visual treat that should not be missed.
This 10-day long festival is organised by the Department of Horticulture and the Mysore Horticulture Society. It's organised twice a year – in January to commemorate Republic Day and in August to mark Independence Day.  So in case you missed the flowery Statue of Liberty this January, you may catch something even more spectacular in August.
2. Air Show
Aero India, a biennial air show and aviation exhibition, organised by the Ministry of Defence is generally held in the month of February. It's not too late to book tickets for this year's show that is being held from 18 – 22 February. If you miss it, you will regret it, because of the mind-blowing aerobatic performance that will be on display. Apart from the Indian Air Force, the show sees participation from many other countries like the US, the UK, Russia, Germany, and France. It's time for eyes on the skies!
3. Kadlekai Parishe
We can say with a degree of certainty that there is no other fair in the world quite like this one. It's the annual groundnut (Yes, you read it right!) fair held in the Basavanagudi neighbourhood.  The varieties of groundnuts, and hordes of groundnut sellers who literally make the street their home, will amaze you. Apart from fresh groundnuts, you can also sample groundnuts that have been spiced, fried, salted, boiled, sugarcoated or roasted. The fair also sees huge number of puffed rice vendors thronging the roads. Kadalekai Parishe began as an annual tradition to appease a local deity and today has become a part of the city's culture and tradition. It's an experience that only Bangalore offers. Watch out for this festival anywhere between November and December.
4. Chitra Santhe
Every year, Kumara Kripa Road transforms into a huge open-air gallery. Thousands of artists, from every possible part of the country, come here to display their creations as part of this mega art fair. You can get buy exclusive artworks by both amateurs and professionals, priced anywhere from Rs 100, a few thousands or even running into lakhs. This street-art festival sees tens of thousands of visitors who come here to appreciate and buy art. In January 2015, the festival saw a turnover of more than Rs 2 crore in just one day. It's a riot of colours, creativity, and inspiration!
5. Sunday Soul Santhe
This is Bangalore's best-loved flea market – offering the irresistible combination of food, music, and creative offerings. There are multiple editions of Sunday Soul Santhe throughout the year. From quirky fashion to creative furnishings, it's a great place for shopaholics. Make sure you attend at least one this year. You won't regret it.
6. Bengaluru International Film Festival
If you are a movie buff with a craving for off-beat cinema, you won't be disappointed. Even though there are regular screenings of such movies organised by various film societies in the city, the Bengaluru International Film Festival still stands a class apart. You not only get to watch these movies, but also interact with some great names from the Indian and international movie industry. It's organised between the months of November and December. Enjoy the world of contemporary and classic cinema, right here.
7. OctoberFest
This is a beer lover's haven. Unlimited beer, great food, awesome music, and friends to multiply the merrymaking. Bangaloreans can't ask for more. Not to mention great photo opps to upload to Facebook, Instagram, and Twitter. The three-day long event is a great way to celebrate, party, and have loads of fun, while guzzling pitchers of beer.
8. Marathons
We are not far behind Delhi or Mumbai when it comes to organising marathons. We have a midnight mararthon, a women-only marathon, other smaller marathons, and the World 10k Bangalore organised by Procam International. The World 10K Bangalore is AIMS-certified and has big prize money at stake. Apart from professional athletes, enthusiasts participate in huge numbers. There's also a 5K run version, where people run to support various social causes. The large number of participants who turn up for the latter show just how large a heart we Bangaloreans have.
9. Theatre Festivals
Ranga Shankara, Alliance Francaise, Jagriti, and Chowdiah are just some of places we love to spend our weekends. Theatre enthusiasts are lucky 'coz the city plays host to some great theatre festivals like the Short+ Sweet, DH Theatre Festival, Metro Plus Theatre Festival, etc. Yeah, we nurture talent!
10. Bangalore Literature Festival
From book readings to writing workshops , the festival is a haven for those who are in love – with words. The festival is attended by local, national, and international authors . 2014 saw the 3rd edition of the festival. Apart from the Lit Fest, the city also hosts a Book Festival, which has been an annual affair for over a decade now.
11. Auto Expo
Luxury cars, SUVs, and super bikes…this show has them all! Admittedly, most of us can't ever afford a lot of what is on display, but it really costs nothing to look (and drool!), does it?  Also, we get front-row seats to see the latest in new-age car technologies from racing stimulators to in-car entertainment devices. Did you know that you also get to see the latest concept car designs? The excitement at the show is always in high gear.
12. Oota from your Thota
Organic farming is definitely a blossoming (pun intended) trend and Bangaloreans have jumped on the bandwagon. Despite land available for farming or even gardening shrinking at a fast pace, Bangaloreans are undeterred. They have transformed their terraces to mini-gardens where they grow vegetables and even fruits. Such is their zeal for gardening and farming that many sell produce from their terrace farms at the 'Oota from your Thota' event. The event also serves as a platform for beginners and enthusiasts to learn the art of urban organic farming, terrace gardening, and to procure seeds and related necessities.
13. Bengaluru Habba
Performers from varied fields of art, dance, music, theatre, and folk arts will help you discover more about Karnataka's rich culture. The 10-day festival takes you on an indepth tour of the local art and cuisine that is an intrinsic part of this state. In essence, the festival celebrates the spirit of this cosmopolitan city. If Kannada gothilla is all you can manage and is your only introduction to Karnataka, come, be a part of this festival and fall in love with this city and the state.
14. Mango Mela
Alphonso, Dusheri, Sakkaregutti, Amarapalli, Mallika, Sindhura, Raspuri, Malgova, Kesar, Totapuri and Banaganapalli…so many varieties of mango and one place to get them all. The annual Mango Mela held at Lalbagh is a mango lover's delight. It's held for a fortnight and extends up to a month. The best part is you can buy the fruit directly from the farmers! Similary, the city also hosts a jackfruit mela, a grapes mela, etc. depending on seasonal availability.
15. Vintage car and bike show
Willys, Raleigh, Suvega, Austin… the list goes on. Is your heart pounding to see them? The Bangalore Vinatge Group organises a Vintage Car and Bike show in the city. Despite being a new entrant to the city's events calendar, it has gained popularity.
16. Bangalore Annual OTR
Do you enjoy testing your driving skills in rocky terrain? A muddy trail or slushy path? Does the wilderness gives you an adrenaline rush? Then the off-roading event is for you. Until 2009, before the Bangalore Off-road Development Authority was formed, offroading in Bangalore was limited to a select group of people; however, it now boasts active participation from adventure enthusiasts within a short period of time. So ride over boulders, explore the wilderness…live free.
17. Karaga Festival
This is one of Bangalore's oldest and most popular festivals. The action takes place in the Dharmarayaswamy temple in Thigalarpet. Many say the festival is linked to the mythological tale of Ramayana. The festival begins at midnight and the fervour is unmatched. During the festival, a ritual pot filled with 'sacred water' is adorned with flowers – several feet high. This is then carried by people of the Thigala community, while performing various acrobatic acts. The procession continues for several hours! It's an experience that you will never forget and words rarely do justice to this centuries-old festival that many hold dear.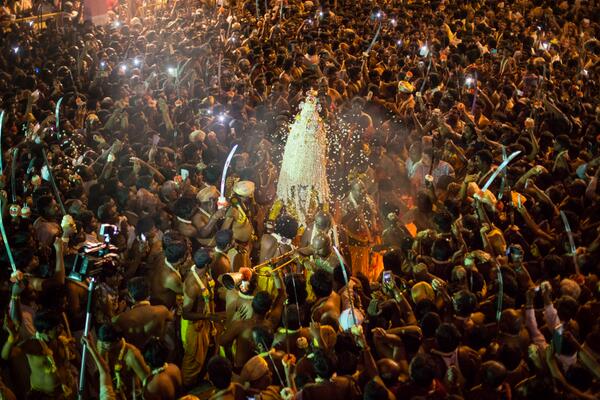 18. Music concerts
The list will be incomplete without the mention of the many music concerts in the city such as NH7 Weekender and Firefly Music Festival  that have now become an annual affair. And these are just the tip of the iceberg! From soulful renditions and hard core metal to fusions of unusual genres, we have something on offer for everyone.
These are just 18 events that I have mentioned. Every community, every locality has many such unique celebrations throughout the year. If you are in Bangalore, be a part of these festivities and celebrate the spirit of oneness! Even though we come from other parts of India or the  world, ultimately, this city becomes ours. Having lived in the city for more than 7 years now,  I can proudly say, "I love Namma Bangaluru."
OMG-inducing, share-compelling, like-attracting, clutter-breaking, thought-provoking, myth-busting content from the country's leading content curators. read on...